---
TANNING
SOLTRON TURBO AND VERTICAL SUNBEDS
£1.00 PER MINUTE
Choose from either lay down or stand up, both guarantee fantastic tanning results. Therapist will advise recommended tanning time to suit individual skin type.
DISCOUNT ON COURSE BOOKINGS
60 Mins
save £9 = 85p per minute
£51
120 Mins
save £24 = 80p per minute
£96
180 Mins
save £45 = 75p per minute
£135
California Spray Tan
The Therapist sprays you by hand for an all over even tan.
£15.00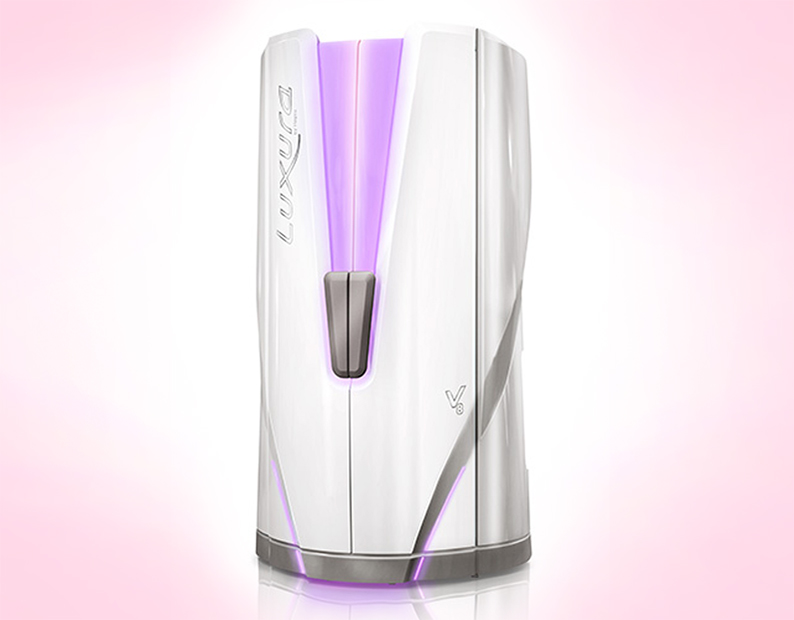 Stand up sunbeds

The V8 uses premium, in-panel, door lamps, and superior cooling-fan technology to provide ultimate tanning comfort.
The Luxura V8 has a dazzling design that illuminates from the beautiful top to bottom. The smooth, high quality finishing with no visible fastening materials emphasizes it's stylish appearance.
For those who find it uncomfortable to enjoy a tanning session with closed doors: the clever design of the V8 makes it possible to leave the doors a chink, half or even completely open while tanning.
The Luxura V8 knows how personal tanning can get. With its quality SoundAround Plus system, including My MP3 and bluetooth connection, tanners instantly play their own music favourites, while the solid holder on the Ambient FlowLight panel holds their smartphone or tablet.
A special ventilation system adjustable in three steps creates the most pleasant temperature while tanning. A perfect airflow surrounds the body and gives the tanning session a comfortable temperature, extra comfort and the perfect head-to-toe fabulous tan!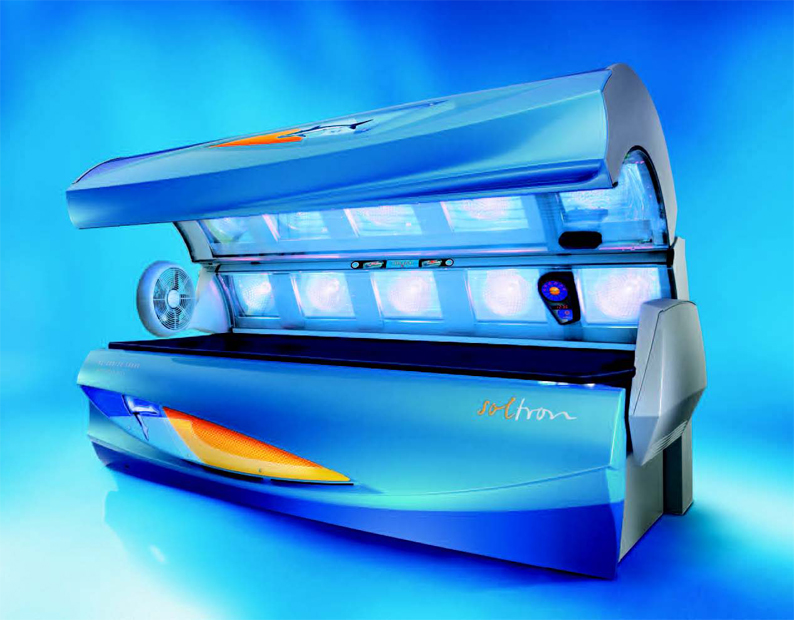 Lay down sunbeds

The XL-200/20 Shark Mattress Xtra is a Great White with great comfort! High-pressure UV performance with the most comfortable tanning surface makes it the ideal combination for any tanner that demands the ultimate in luxurious tanning pleasure.
The 20, 520-watt high-pressure units in the canopy provide biting performance. Combined with the newly developed Shark technology, they ensure that your customers are tanned with the optimum ratio of UV-A and UV-B rays. Add to that the vertical spaghetti lamp shoulder tanner and you have an amazingly powerful bed.
To make sure all that power is used effectively, the Shark Mattress Xtra features an Integrated Alert System. This advanced feature emits a signal tone to let tanners know when it's time to turn over to tan theother half of their body. Unlike other tanning units, Soltron's Integrated Alert System requires tanners to confirm they've heard the tone by pressing the Start button thus providing complete coverage.
You can relax with this Shark as it embraces clients in a soft, supple mattress. Further enhancing its comfort, the Shark Mattress Xtra's fan and additional face ventilation provide cooling pleasure reminiscent of wind across the ocean.